International Women's Day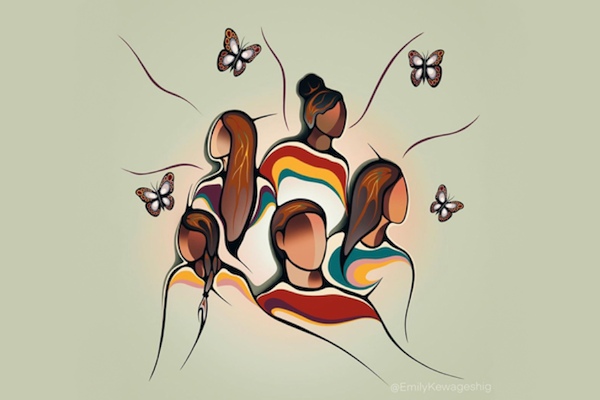 At Rise, we honour Indigenous women and girls across the globe for their achievements, resilience and boldness.
We also recognize the systematic barriers that often exclude the contributions made by Indigenous women in celebratory spaces. Indigenous women have been marginalized by the impact of colonialism and the impacts of the Residential School system. These impacts are intergenerational and affect Indigenous women today in various, and often traumatic, ways.
March 8 marks International Women's Day – a day to recognize and celebrate women around the world. We encourage you to learn more about the barriers and celebrations of Indigenous women. One resource that you may find helpful in this arena is the work of the Native Women's Association of Canada.
The image chosen is by Emily Kewageshig. Emily is an Anishnaabe artist and visual storyteller from Saugeen First Nation No. 29. Her work captures the interconnection of life forms using both traditional and contemporary materials. Her work is centered around themes of birth, death, and rebirth as they are closely intertwined in both her cultural teachings and personal lived experiences. "Similar to a butterfly's journey, our young people also experience great change and transformation during their lifetimes. This art piece is to honour and celebrate all youth who get up every day and work towards becoming a better version of themselves. For those who don't give up and continue to spread their wings and fly."