MMIWG2S Day / Red Dress Day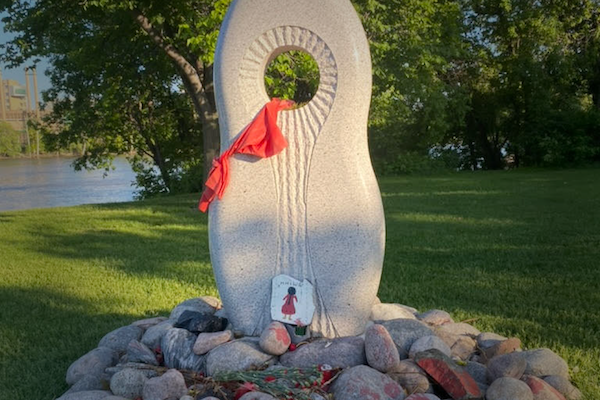 Crystal Blain is an Indigenous team member at Rise, she believes that Reconciliation means creating an understanding of the past, to create a better future for all.
WARNING: If the following information is triggering, please call the MMIWG2S Support line at: 1-844-413-6649.
Post shared by Crystal Blain. Back in the 1970's one of my cousin's daughters never came home. Ever. Sit with this. Put yourself in my cousin's shoes. The never knowing would be unbearable. Being told that you should 'move on with your life' may seem crippling. I understand that staying put would feel safe – just in case she comes home. One day.
Sadly, this is the reality for far too many Indigenous people who lost a daughter, a sister, a mother, a wife, a grandmother, a niece, a loved one. The statistics are horrendous – Indigenous women are 12 times more likely to be murdered or go missing than any other women in Canada. Why? How? Perhaps it is because of the atrocities of abuse suffered at Indian Residential Schools and its intergenerational effects, or the need to search for a better life outside of the reserves. This, coupled with systemic racism all add up to Indigenous women being a very vulnerable demographic. Canada's National Inquiry into MMIWG Final Report includes that "persistent and deliberate human and Indigenous rights violations and abuses are the root cause behind Canada's staggering rates of violence against Indigenous women, girls and 2SLGBTQQIA people."
The Calls for Justice in the Final Report ask all Canadians to be part of the change to end this genocide and to transform systemic racism and societal values. Together, all Canadians can make a difference:
Continuing this dialogue, to create a shared path of Reconciliation on the issues that are specific to the Final Report is a good start.
Attend an MMIWG2S march and learn from the Indigenous people you walk along with.
If in Mohkinstsis attend the RESET Society of Calgary (formerly Servants Anonymous) book sale where 100% of the proceeds goes towards women and children experiencing the violence and trauma of sexual exploitation
Read: Just Facts – Missing and Murdered Indigenous Women and Girls and share your reflections
Watch The REDress Project video and share your perspective on the installation 
Take a look at the Gallery of Artistic Expressions and take some time to reflect on what the artwork means to you, and the family and community members of the MMIWG
Take a look at the image 'Still Dancing' by Jonathan LaBillois and take some time to reflect on how it makes you feel 
Read both Poems: The Colour Red and Earth Warrior written by Tasheena, a multi-media Algonquin Artist, working from North Bay and take some time to reflect on her words 
Watch The True Story of Pocahontas and reflect on the impacts that the Disney movie has on the MMIWG and the romanticizing of Indigenous women 
Visit Native Women's Wilderness and reflect on the statistics and stories shared in the MMIWG2S final video 
Visit the National Inquiry into Missing and Murdered Indigenous Women and Girls to stay connected with the latest news and events.